• The all-new 2023 Evol Empire drop is now available at Purple Haze in Englewood, Colorado.
• This line includes the All Day Rig (ADR), which comes in 4 styles, and 3 styles of flower pieces.
• Evol Empire strives to make high-quality glass pieces that have an impressive combination of both form and scientific function.
2023

Evol Empire

Drop Now Available at Purple Haze |

Evol Empire

Glass
The newest line of scientific glass art from Evol Empire is now available at Purple Haze Smoke Shop in Denver, Colorado. This line includes the All Day Rig (ADR), which comes in 4 styles, and 3 styles of flower pieces.

Introduction
Are you a fan of Heady glass of the scientific variety? Are you more obsessed with how your bong functions than how cool your pendant looks? If so, then you're in luck because the all-new Evol Empire line is now available at Purple Haze Smoke Shop in Denver Colorado. Evol Empire is one of best American bong brands that has hardcore glass collectors around the world raving. This latest drop includes their super popular All Day Rig (ADR) of which they sent us 4 pieces. We also have 2 styles of flower pieces including the KGB Plus, and Reactor Beaker in this drop. 
More About

Evol Empire
What Makes Evol Empire Glass Unique? First of all, Evol Empire strives to make high-quality glass pieces that can withstand daily use without losing any of their aesthetic appeal. This means that their pieces have an impressive combination of both form and scientific function. From intricate recyclers to multi-perc flower tubes Evol's supreme craftsmanship allows them to make just about everything under the sun. 
Evol Empire's founder and head glassblower Jay Gordon started in the Scientific Glassblowing industry at age 20. He moved from coast-to-coast mastering glassblowing skills utilized in the semiconductor, pharmaceutical, and analytical industries, as well as in the field of academia. Over time he began to transition from scientific glass industry, to the glass pipe industry with a goal of merging artistic elements into his work. Evol Empire was born, along with it a line of functional glass that has won converts across the world. Jay never stops optimizing. His newest designs build upon the strengths of previous designs as form and function continue to make advancements.
THE DROP! (Now Available at Purple Haze)
The All Day Rig (ADR)
The All Day Rig (ADR) has a splash guard, hand-tooled 10mm joints, and a single layer of their signature "Punisher Perc". Purple Haze customers can choose from four unique color combos, each has the Evol Empire brand prominently displayed on the piece. Like the name implies, the ADR was made to be ideal for dabbing all types of concentrates all day long. Just insert your favorite 10mm banger or terp slurper and you're good to go!
The ADR has 3 sizes, Micro (approximately 6.5 inches), the Mini (approximately 7.5 inches) and the Full (approximately 8.5 inches). The compact size options of the Micro and Mini are perfect for on-the-go smoking sessions, many seasoned dabbers also prefer smaller rigs because there is less of a chance for previous THC vapors to re-condensate inside the pipe. The Full size ADR is perfect for those who love taking big dabs. Their signature Punisher Perc offers superior water filtration, ensuring that every hit tastes as smooth and flavorful as the last one.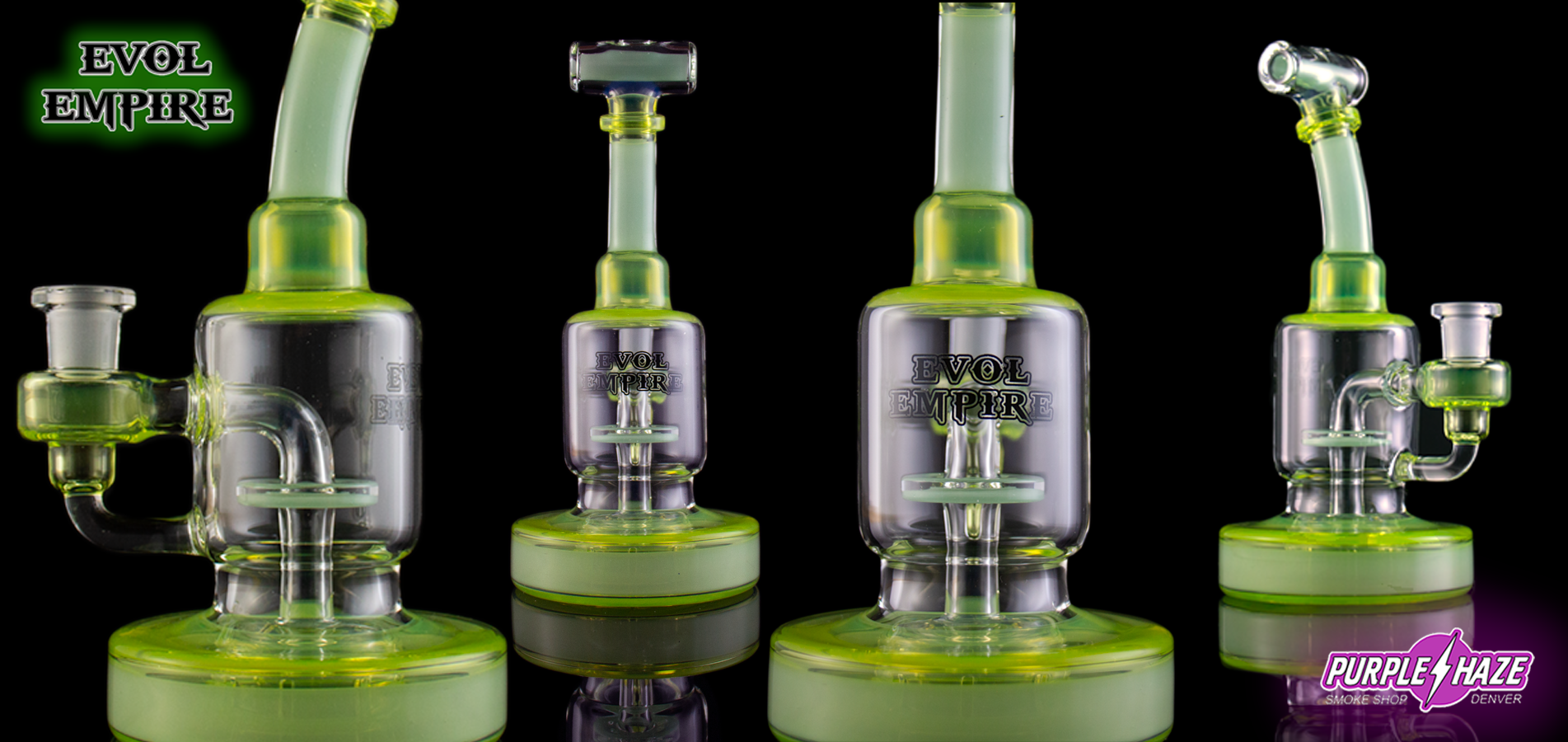 Mint & Ectoplasm Micro ADR
The KGB Plus
The KGB Plus is a new piece from Evol Empire and is one of just 10 currently in existence. We hope our Purple Haze customers get the chance to see this beauty in person at our Englewood location before its gone!
The Plus design is based on their original KGB design but scaled up 25%. It stands just under 15 inches and the mouthpiece is around 33mm or 1.25 inches wide. The piece includes a built-in splash guard so you don't have to worry about getting any water in your mouth while using this rig. The particular KGB Plus we received is made with clear sections and is accented with beautiful Trillium and Amethyst sections throughout the bong.
We sat down with Jay to learn more about this piece and he told us:
"You'll want to keep the water just above the perc line, this piece is made for steady pulling to generate a big milked up hit. Be sure not not to hit it super hard."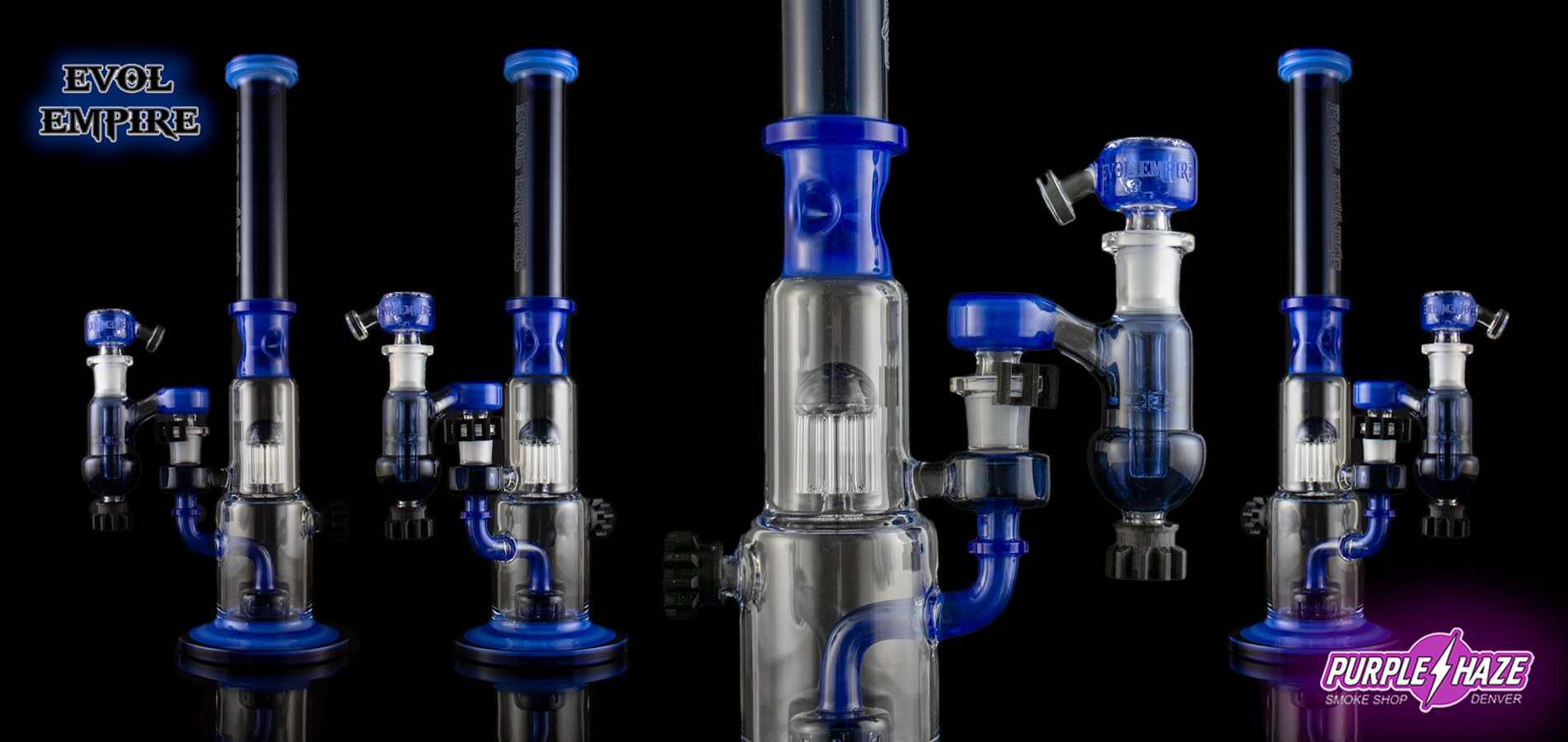 KGB Plus with Trillium & Dark Amethyst
The Reactor Beaker
Last but not least, the Reactor Beaker which is intended for flower, features a unique tree perc design with a 14 mm female joint that makes it perfect for big milky hits. It includes an ash catcher with a drain screw so it's very user friendly and easy to clean! We have 2 versions of this piece in stock, one made with color and one made with clear. Unlike other beaker-bongs on the market, Jay and his team have not overlooked that these pieces are sometimes hit at an angle when the bong is sitting in your lap. They have made sure all of the percs fire correctly at this angle, so don't worry!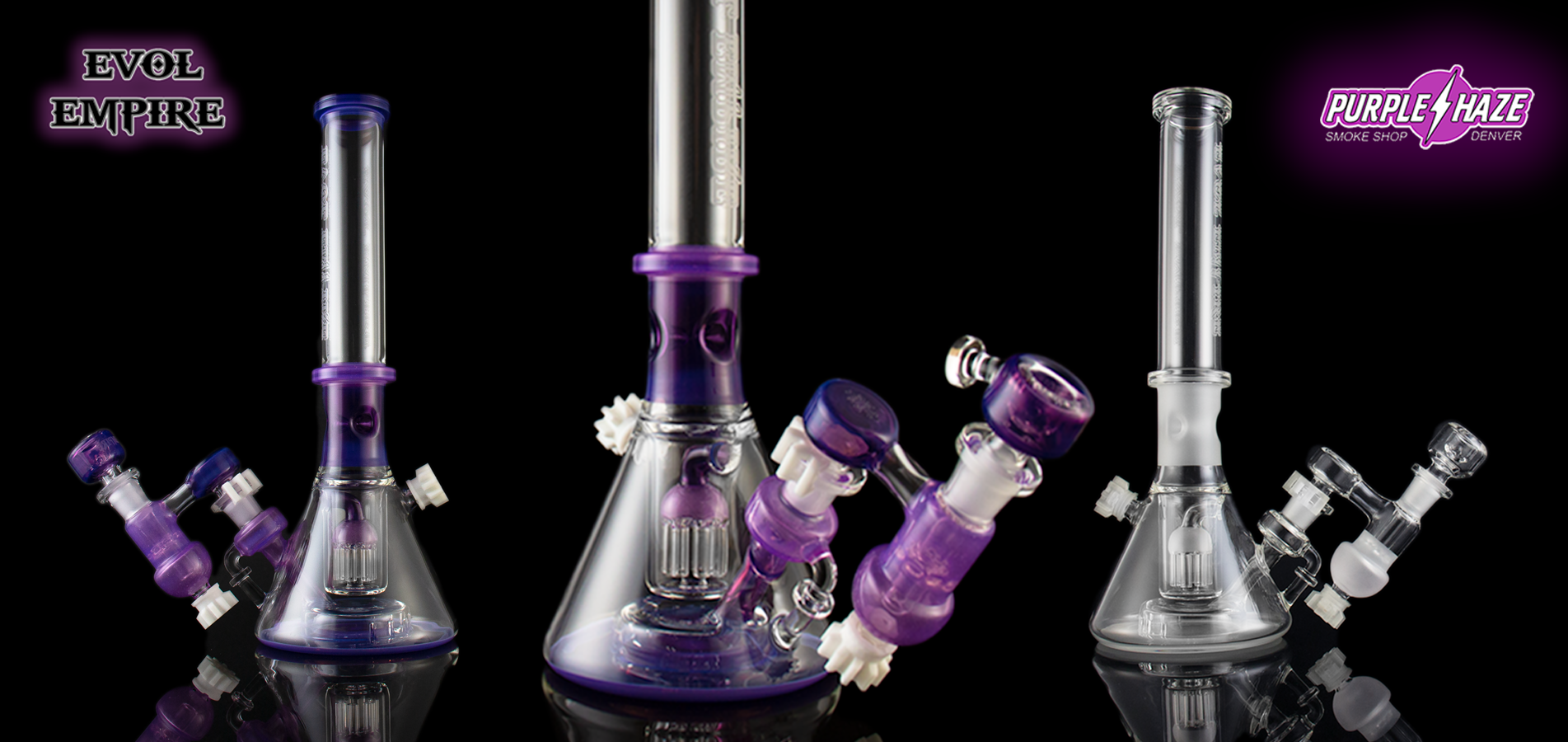 Reactor Beaker Empire & Wildflower; Reactor Beaker Clear & Sandblast
What are the benefits of

Evol Empire

Glass

?
American Made with Pride: Evol Empire is a small midwestern company that focuses on quality over quantity with rigorous quality control and calibration methods. Their designs are continually EVOLving to create clean, innovative, scientific functional glass.

 
Handmade Keck Clip Connectors: One cool piece of technology on the Evol Empire flower tubes is the Keck Clip or K-Clip as it is sometimes referred to. This clip connects the ash catcher of the piece to the rig and is a safety procedure which ensures that the parts of the piece stay connected during regular daily use. Unlike other brands who simply purchase keck clips from scientific glassware suppliers, Evol Empire creates their own in house with resin! During our sit down with Jay we learned that this particular design took over 2 years of painstaking R&D to design and manufacture in-house in small batches.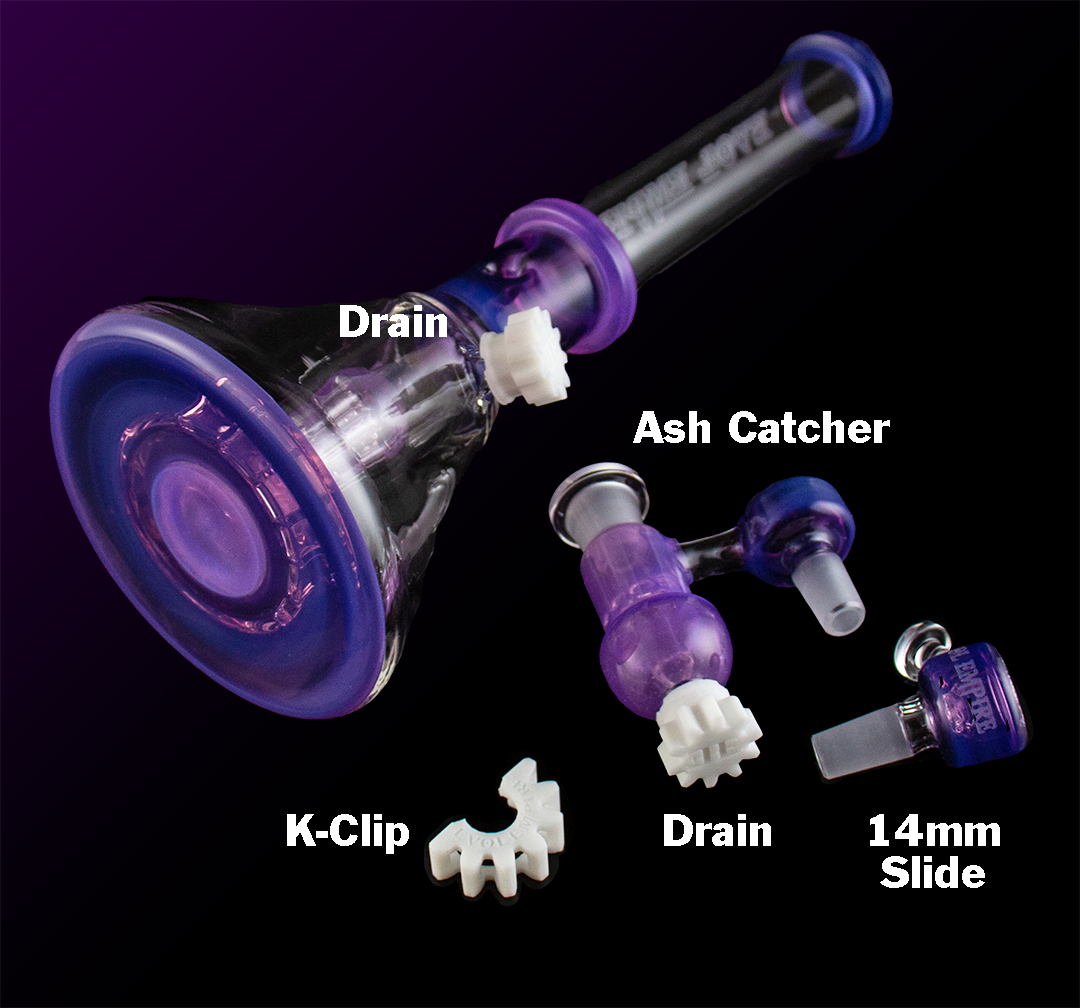 Parts of the Reactor Beaker
 

Easy-Clean Drain Technology: Another great feature of the Evol Empire flower piece is the custom drain screw which allows for easy disposal of bong water and ash material while cleaning the piece. This technology is a must-have for collectors who want to easily and conveniently clean their pieces. If you're like any of us here on the Purple Haze Team, you know how clutch it can be to be able to reclaim some of that re-condensed oil to reuse when times are tight! Like their keck clips, the team at Evol Empire has designed and manufactured these from scratch using resin casting technology.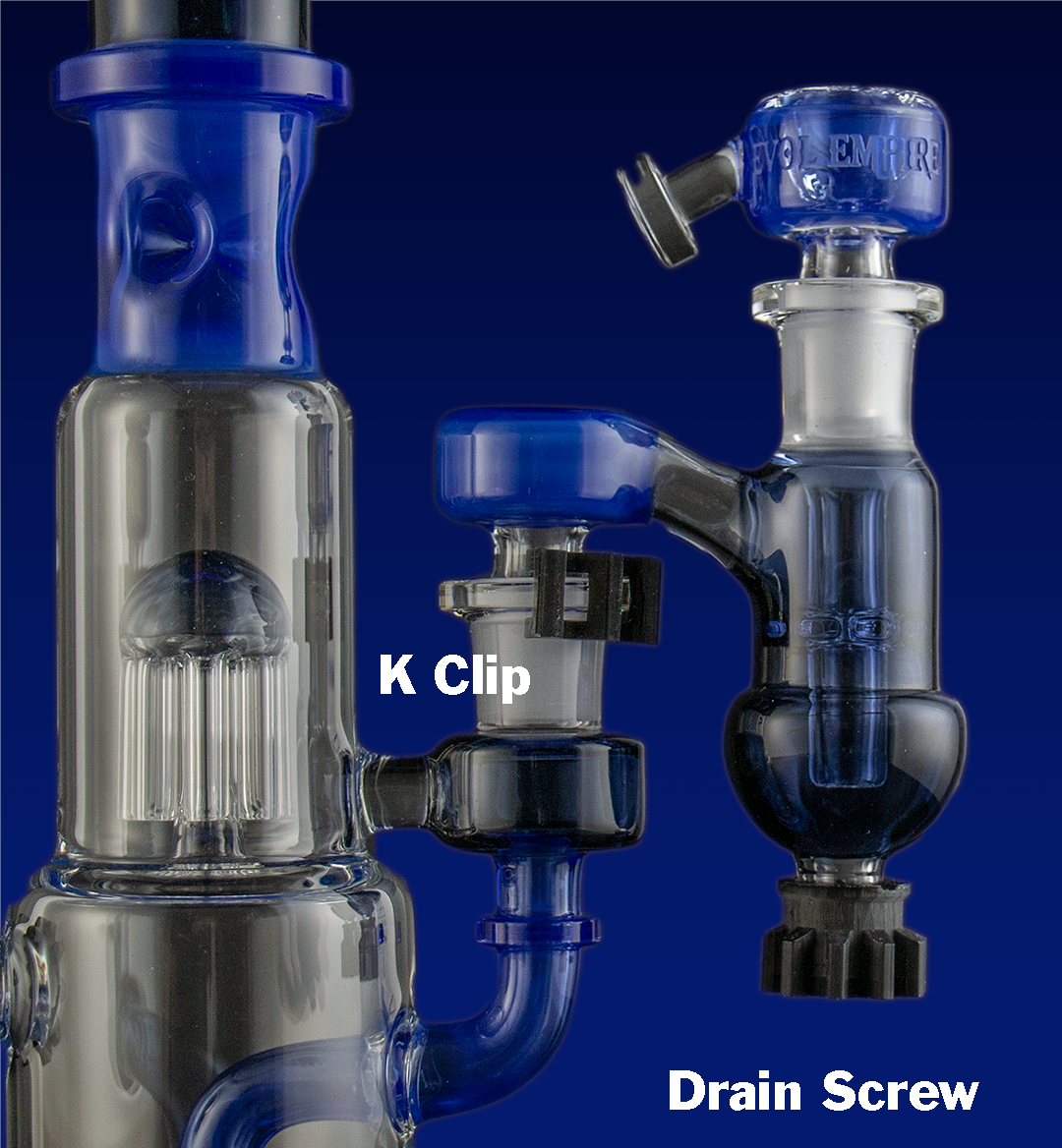 Drain Screw and K-Clip on Ash Catcher
Conclusion:  
If you are looking for some new Heady glass pieces to add to your collection then look no further than Purple Haze Smoke Shop in Denver Colorado where the all-new 2023 Evol Empire drop is now available! From the All Day Rig (ADR) to the KGB Plus and the Reactor Beaker flower pieces, this brand offers an impressive combination of form and function that will help take your smoking experience to the next level! So what are you waiting for? Stop by Purple Haze Smoke Shop in Englewood today and check out these awesome new pieces from Evol Empire! You won't be disappointed! If you can't make it down, these pieces will be available online, simply add to your cart and head to checkout ASAP! These pieces will sell out fast.
What are the benefits of buying from Purple Haze?
—Dedicated staff here to help first time and experienced buyers. Don't like what you're currently smoking? We'll help you find something else that excites you!

 

—Large selection the latest trending products to complete your stoner toolkit

 

—Purchase your favorite products in-store and online. It doesn't matter if you are in Los Angeles or New York City, we're here to help you!

 

—We offer the best prices in the Denver, CO area